About Us
Inner Fire - Finest Indian Cuisine is a Indian takeaway in Bristol. Why don't you try our Gobi Bhaji or Vegetable Korma?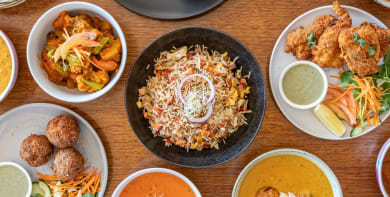 Reviews
491 reviews
Rohan
"Amazing food yet again!"
24/10/2020
tony
"The is delicious and well worth trying if your new to this restaurant."
16/10/2020
Monika
"Delivered very quickly, and some really good flavours! Highly recommend Makhan, Chicken Tikka with Pilau Rice. Will definitely order again!"
08/10/2020
francesca
"nice food !! service was nice and super quick"
30/09/2020
Menu
Aloo Chat
Potatoes cooked in special chaat masala
£3.50
Aloo Chat Puri
Potatoes cooked in a special chaat masala and served with puri
£3.75
Chicken Chat
Chicken cooked in special chaat masala
£3.50
Chicken Chat Puri
Chicken cooked in special chaat masala and served with puri
£3.75
Chicken Pakora
Tikka mixed with batter sauce fried into small fritters
£3.75
Dall Soup
Lentils with a slice of lemon
£2.95
Garlic Chicken Tikka Starter
Chicken marinated in garlic, green peppers, fresh coriander cooked in the clay oven
£3.95
King Prawn Butterfly
King prawn marinated with exotic spices, deep fried in a crunchy coating
£4.95
Malagatani Soup
Curry sauce and lentils with a slice of lemon
£2.95
Mirch Tikka Starter Chicken
Tender, boneless chicken or lamb marinated in yoghurt, garlic, ginger, coriander, green chilli & fresh herbs
£3.95
Mirch Tikka Starter Lamb
Tender, boneless chicken or lamb marinated in yoghurt, garlic, ginger, coriander, green chilli & fresh herbs
£3.95
Mixed Kebab
Chicken tikka, lamb tikka and onion bhaji
£3.95
Naga Tikka Starter Chicken
Tender, boneless chicken or lamb marinated in yoghurt, hot scotch bonnet chilli pickle & fresh herbs
£3.95
Naga Tikka Starter Lamb
Tender, boneless chicken or lamb marinated in yoghurt, hot scotch bonnet chilli pickle & fresh herbs
£3.95
Onion Bhaji
Onion balls fried in butter
£2.95
Mushroom Kebab
Minced meat stuffed mushrooms deep fried in a crunchy coating
£3.95
Papadom
Made from corn flour. Fried, thin and crisp
£0.70
Reshmi Kebab
Minced meat fried in a little ghee served with omelette
£3.95
Prawn Cocktail
Succulent shrimps in salad topped with cocktail sauce
£3.75
Prawn Puri
Succulent shrimps spiced and served with puri
£3.75
Samosa Meat
Spiced pastry triangles stuffed with meat or vegetable
£2.95
Samosa Vegetable
Spiced pastry triangles stuffed with meat or vegetable
£2.95
Shami Kebab
Minced meat fried in a little ghee
£3.75
Sheesh Kebab Starter
Minced meat cooked on skewers in the clay oven
£3.75
Special Kebab
Minced meat cooked on skewers in the clay oven wrapped in chapati
£3.95
Tandoori Chicken Starter
Spring chicken marinated in spicy yoghurt cooked in the clay oven
£3.75
Stuffed Pepper
Capsicum stuffed with mixed vegetables
£3.95
Tikka Starter Chicken
Tender boneless chicken or lamb marinated in yoghurt with herbs & spices, barbecued in the clay oven
£3.75
Tikka Starter Lamb
Tender boneless chicken or lamb marinated in yoghurt with herbs & spices, barbecued in the clay oven
£3.75
Tropical Curry - Chicken Tikka
Chicken tikka, lamb tikka, prawns and mushrooms cooked in a rich masala sauce
£7.95
Shatkora Chicken Tikka
Tikka cooked in Indian bitter vegetables
£7.50
Shatkora Lamb Tikka
Tikka cooked in Indian bitter vegetables
£7.50
Rezellah Chicken Tikka
Tikka cooked with yoghurt and chopped green chillies
£7.50
Rezellah Lamb Tikka
Tikka cooked with yoghurt and chopped green chillies
£7.50
Passanda Chicken Tikka
Tikka cooked in fresh cream and almond powder
£7.50
Passanda Lamb Tikka
Tikka cooked in fresh cream and almond powder
£7.50
Moza Chicken Tikka
Tikka cooked in sweet sauce with chopped onions, tomato, capsicum and fresh selected herbs
£7.50
Moza Lamb Tikka
Tikka cooked in sweet sauce with chopped onions, tomato, capsicum and fresh selected herbs
£7.50
Murghi Massala
On the bone tandoori chicken cooked in a mince meat bhuna sauce
£7.95
Naga Chicken Tikka
Tikka cooked with hot scotch bonnet chilli pickle
£7.50
Naga Lamb Tikka
Tikka cooked with hot scotch bonnet chilli pickle
£7.50
Makhan Chicken Tikka
Tikka cooked in a mild mango buttery dish cooked with coconut
£7.50
Makhan Lamb Tikka
Tikka cooked in a mild mango buttery dish cooked with coconut
£7.50
Maricha Chicken Tikka
Tikka cooked with blended fresh green chilli, garlic, ginger & coriander exotic hot taste
£7.50
Maricha Lamb Tikka
Tikka cooked with blended fresh green chilli, garlic, ginger & coriander exotic hot taste
£7.50
Massala Chicken Tikka
Tikka cooked in a wonderful combination of flavours with cream and masala red sauce
£7.50
Massala Lamb Tikka
Tikka cooked in a wonderful combination of flavours with cream and masala red sauce
£7.50
Innerfire Special Chicken Tikka
Marinated chicken tikka cooked with tamarind sauce, spring onion and garnished with fresh herbs
£8.95
Keema Bhuna
Mince meat cooked with browned onions and fresh herbs
£7.50
Keema Karahi
Mince meat cooked with chopped onions, capsicum, tomato and sliced ginger served in a iron wok
£7.50
Lakno Chicken Tikka
Tikka cooked with mushrooms and fresh cream
£7.50
Lakno Lamb Tikka
Tikka cooked with mushrooms and fresh cream
£7.50
Jalfrezi Chicken Tikka
Tikka cooked with onions and peppers garnished with green chilli
£7.50
Jalfrezi Lamb Tikka
Tikka cooked with onions and peppers garnished with green chilli
£7.50
Karahi Chicken Tikka
Tikka cooked with chopped onions, capsicum, tomato and sliced ginger served in a iron wok
£7.50
Karahi Lamb Tikka
Tikka cooked with chopped onions, capsicum, tomato and sliced ginger served in a iron wok
£7.50
Garlic Chilli Masala Chicken Tikka
Tikka cooked in garlic & fresh green chilli
£7.50
Garlic Chilli Masala Lamb Tikka
Tikka cooked in garlic & fresh green chilli
£7.50
Dil Cush Chicken Tikka
Tikka cooked in sweet sauce with chopped onions, capsicum, tomato and fresh selected herbs
£8.95
Dil Cush Lamb Tikka
Tikka cooked in sweet sauce with chopped onions, capsicum, tomato and fresh selected herbs
£8.95
Garlic Tikka Bhuna Chicken Tikka
Tikka cooked with garlic, browned onions and fresh herbs
£7.50
Garlic Tikka Bhuna Lamb Tikka
Tikka cooked with garlic, browned onions and fresh herbs
£7.50
Gurka Chicken
Chicken stuffed with mince meat and garnished with fresh herbs
£8.95
Chilli Paneer Chicken Tikka
Tikka cooked with homemade Indian cottage cheese, green chillies and fresh selected herbs
£7.50
Chilli Paneer Lamb Tikka
Tikka cooked with homemade Indian cottage cheese, green chillies and fresh selected herbs
£7.50
Achari Chicken Tikka
Tikka cooked in Indian pickle
£7.50
Achari Lamb Tikka
Tikka cooked in Indian pickle
£7.50
Bombay Chicken - Chicken Tikka
Sliced chicken tikka marinated with yoghurt and exotic spices. Cooked with onions, capsicum, tomato, bayleaf and boiled egg
£7.95
Badami Chicken Tikka
Tikka cooked in a creamy sauce with almonds
£7.50
Badami Lamb Tikka
Tikka cooked in a creamy sauce with almonds
£7.50
Butter Chicken Tikka
Tikka cooked in a rich butter and cream
£7.50
Butter Lamb Tikka
Tikka cooked in a rich butter and cream
£7.50
Garlic Chicken Tikka Main
Chicken marinated in garlic, green peppers, fresh coriander cooked in the clay oven
£6.95
Mirch Tikka Main Chicken
Tender, boneless chicken or lamb marinated in yoghurt, hot scotch bonnet chilli pickle & fresh herbs
£6.95
Mirch Tikka Main Lamb
Tender, boneless chicken or lamb marinated in yoghurt, hot scotch bonnet chilli pickle & fresh herbs
£6.95
Naga Tikka Main Chicken
Tender, boneless chicken or lamb marinated in yoghurt, hot scotch bonnet chilli pickle & fresh herbs
£6.95
Naga Tikka Main Lamb
Tender, boneless chicken or lamb marinated in yoghurt, hot scotch bonnet chilli pickle & fresh herbs
£6.95
Paneer Shashlik
Homemade Indian cottage cheese with onion, tomato and capsicum then barbecued in the clay oven
£6.95
Sheesh Kebab Main
Minced meat cooked on skewers in the clay oven
£6.95
Shashlik Chicken
Marinated with onion, tomato and capsicum then barbecued in the clay oven
£7.50
Shashlik Lamb
Marinated with onion, tomato and capsicum then barbecued in the clay oven
£7.50
Shashlik Chilli Masala Chicken
Marinated with onion, tomato and capsicum then barbecued in the clay oven. Served with bhuna sauce
£7.95
Shashlik Chilli Masala Lamb
Marinated with onion, tomato and capsicum then barbecued in the clay oven. Served with bhuna sauce
£7.95
Tandoori Chicken Joori
Barbecued tandoori chicken shredded and fried in onion, fresh herbs and exotic spices
£8.95
Tandoori Chicken Main
Half spring chicken marinated in yoghurt with herbs & spices, barbecued in the clay oven
£6.95
Tikka Main Chicken
Tender boneless chicken or lamb marinated in yoghurt with herbs & spices, barbecued in the clay oven
£6.50
Tikka Main Lamb
Tender boneless chicken or lamb marinated in yoghurt with herbs & spices, barbecued in the clay oven
£6.50
Tandoori Fish Main
House fish marinated in herbs and exotic spices barbecued in the clay oven
£6.95
Tandoori King Prawn
King prawn marinated in herbs and exotic spices barbecued in the clay oven
£12.95
Tandoori Mixed Grill
Chicken tikka, lamb tikka, tandoori chicken and sheesh kebab served with plain naan
£8.95
Innerfire Special Biryani
Chicken and lamb tikka cooked with garlic, naga and fresh herbs
£9.95
Persian Tikka Biryani Chicken
Cooked with sultana. Served with an omelette
£8.95
Persian Tikka Biryani Lamb
Cooked with sultana. Served with an omelette
£8.95
Mixed Biryani
Cooked with chicken tikka, lamb tikka and prawns
£8.50
Vegetable Naga
Cooked with very hot scotch bonnet chilli pickle
£6.50
Vegetable Passanda
Cooked in fresh cream & almond powder
£6.50
Vegetable Pathia
Cooked in a slightly sweet, sour & hot sauce
£5.50
Vegetable Saag Aloo
Spinach & potatoes cooked in browned onions
£5.50
Vegetable Vindaloo
Cooked in a very hot sauce with potatoes
£5.50
Vegetable Balti
Cooked with fresh root spices, garlic, onion & capsicum in a balti paste
£6.50
Vegetable Bhuna
Cooked with browned onions & fresh herbs
£5.50
Vegetable Jalfrezi
Cooked with onions & peppers garnished with green chilli
£6.50
Vegetable Karahi
Cooked with chopped onions, capsicum, tomato & sliced ginger
£6.50
Vegetable Korma
Cooked in ground coconut & cream
£5.50
Vegetable Madras
Cooked in a hot sauce
£5.50
Vegetable Makhan
Cooked in mild mango buttery dish cooked with coconut
£6.50
Vegetable Maricha
Cooked with blended fresh green chilli, garlic, ginger & coriander exotic hot taste
£6.50
Vegetable Massala
Cooked with a wonderful combination of flavours with cream & masala red sauce
£6.50
Vegetable Motor Paneer
Green peas & home-made Indian cottage cheese
£5.50
Innerfire Special Vegetables
Mixed vegetables cooked with tamarind sauce, spring onion & garnished with fresh herbs
£7.50
Dil Cush
Mixed vegetables cooked in sweet sauce with chopped onions, casicum, tomato & fresh selected herbs
£7.50
Butter Vegetable
Cooked in rich butter & cream
£6.50
Balti Chicken Tikka Masala
£7.50
Balti Chilli Chicken Tikka
£7.50
Machlee Bhuna
House fish cooked with browned onion and fresh herbs
£7.95
Machlee Garlic Chilli Massala
House fish cooked with fresh garlic, green chilli, tomato and browned onions
£7.95
Machlee Massala
House fish cooked with a wonderful combination of cream and masala red sauce
£7.95
Fish Shajahan
Marinated house fish cooked with onion, capsicum, tomato, garlic, bayleaf, cinnamon and spicy fresh herbs
£7.95
King Prawn Karahi
Onions, capsicum, tomato and sliced ginger
£13.95
King Prawn Massala
Cooked with a wonderful combination of cream and masala red sauce
£13.95
King Prawn Sizzler
Onions and peppers with special selected herbs
£13.95
Korma Chicken
Cooked in ground coconut & cream
£6.50
Korma Chicken Tikka
Cooked in ground coconut & cream
£7.50
Korma King Prawn
Cooked in ground coconut & cream
£12.95
Korma Lamb
Cooked in ground coconut & cream
£6.50
Korma Lamb Tikka
Cooked in ground coconut & cream
£7.50
Korma Prawn
Cooked in ground coconut & cream
£6.50
Kashmiri Chicken
Cooked in ground coconut, banana & cream
£6.50
Kashmiri Chicken Tikka
Cooked in ground coconut, banana & cream
£7.50
Kashmiri King Prawn
Cooked in ground coconut, banana & cream
£12.95
Kashmiri Lamb
Cooked in ground coconut, banana & cream
£6.50
Kashmiri Lamb Tikka
Cooked in ground coconut, banana & cream
£7.50
Kashmiri Prawn
Cooked in ground coconut, banana & cream
£6.50
Jeera Chicken
Cooked in freshly roasted cumin seeds
£6.50
Jeera Chicken Tikka
Cooked in freshly roasted cumin seeds
£7.50
Jeera Keema (Mince Meat)
Cooked in freshly roasted cumin seeds
£6.50
Jeera King Prawn
Cooked in freshly roasted cumin seeds
£12.95
Jeera Lamb
Cooked in freshly roasted cumin seeds
£6.50
Jeera Lamb Tikka
Cooked in freshly roasted cumin seeds
£7.50
Jeera Prawn
Cooked in freshly roasted cumin seeds
£6.50
Honey Chicken Tikka
Cooked with honey in a bhuna sauce
£7.50
Honey King Prawn
Cooked with honey in a bhuna sauce
£12.95
Honey Lamb Tikka
Cooked with honey in a bhuna sauce
£7.50
Honey Prawn
Cooked with honey in a bhuna sauce
£6.50
Dopiaza Chicken
Cooked with chopped onions & fresh herbs
£6.50
Dopiaza Chicken Tikka
Cooked with chopped onions & fresh herbs
£7.50
Dopiaza Keema (Mince Meat)
Cooked with chopped onions & fresh herbs
£6.50
Dopiaza King Prawn
Cooked with chopped onions & fresh herbs
£12.95
Dopiaza Lamb
Cooked with chopped onions & fresh herbs
£6.50
Dopiaza Lamb Tikka
Cooked with chopped onions & fresh herbs
£7.50
Dopiaza Prawn
Cooked with chopped onions & fresh herbs
£6.50
Dansak Chicken
Cooked with lentils in a sweet, sour & hot sauce
£6.50
Dansak Chicken Tikka
Cooked with lentils in a sweet, sour & hot sauce
£7.50
Dansak Keema (Mince Meat)
Cooked with lentils in a sweet, sour & hot sauce
£6.50
Dansak King Prawn
Cooked with lentils in a sweet, sour & hot sauce
£12.95
Dansak Lamb
Cooked with lentils in a sweet, sour & hot sauce
£6.50
Dansak Lamb Tikka
Cooked with lentils in a sweet, sour & hot sauce
£7.50
Dansak Prawn
Cooked with lentils in a sweet, sour & hot sauce
£6.50
Curry Chicken
Medium spiced curry
£6.50
Curry Chicken Tikka
Medium spiced curry
£7.50
Curry Keema (Mince Meat)
Medium spiced curry
£6.50
Curry King Prawn
Medium spiced curry
£12.95
Curry Lamb
Medium spiced curry
£6.50
Curry Lamb Tikka
Medium spiced curry
£7.50
Curry Prawn
Medium spiced curry
£6.50
Bhuna Chicken
Cooked with browned onions & fresh herbs
£6.50
Bhuna Chicken Tikka
Cooked with browned onions & fresh herbs
£7.50
Bhuna Keema (Mince Meat)
Cooked with browned onions & fresh herbs
£6.50
Bhuna King Prawn
Cooked with browned onions & fresh herbs
£12.95
Bhuna Lamb
Cooked with browned onions & fresh herbs
£6.50
Bhuna Lamb Tikka
Cooked with browned onions & fresh herbs
£7.50
Bhuna Prawn
Cooked with browned onions & fresh herbs
£6.50
Ceylon Chicken
Fairly hot curry cooked with coconut
£6.50
Ceylon Chicken Tikka
Fairly hot curry cooked with coconut
£7.50
Ceylon Keema (Mince Meat)
Fairly hot curry cooked with coconut
£6.50
Ceylon King Prawn
Fairly hot curry cooked with coconut
£12.95
Ceylon Lamb
Fairly hot curry cooked with coconut
£6.50
Ceylon Lamb Tikka
Fairly hot curry cooked with coconut
£7.50
Ceylon Prawn
Fairly hot curry cooked with coconut
£6.50
Madras Chicken
Cooked in a hot sauce
£6.50
Madras Chicken Tikka
Cooked in a hot sauce
£7.50
Madras Keema (Mince Meat)
Cooked in a hot sauce
£6.50
Madras King Prawn
Cooked in a hot sauce
£12.95
Madras Lamb
Cooked in a hot sauce
£6.50
Madras Lamb Tikka
Cooked in a hot sauce
£7.50
Madras Prawn
Cooked in a hot sauce
£6.50
Malaya Chicken
Cooked in ground coconut, pineapple & cream
£6.50
Malaya Chicken Tikka
Cooked in ground coconut, pineapple & cream
£7.50
Malaya King Prawn
Cooked in ground coconut, pineapple & cream
£12.95
Malaya Lamb
Cooked in ground coconut, pineapple & cream
£6.50
Malaya Lamb Tikka
Cooked in ground coconut, pineapple & cream
£7.50
Malaya Prawn
Cooked in ground coconut, pineapple & cream
£6.50
Methi Chicken
Medium curry cooked with a sprinkle of fenugreek leaves
£6.50
Methi Chicken Tikka
Medium curry cooked with a sprinkle of fenugreek leaves
£7.50
Methi Keema (Mince Meat)
Medium curry cooked with a sprinkle of fenugreek leaves
£6.50
Methi King Prawn
Medium curry cooked with a sprinkle of fenugreek leaves
£12.95
Methi Lamb
Medium curry cooked with a sprinkle of fenugreek leaves
£6.50
Methi Lamb Tikka
Medium curry cooked with a sprinkle of fenugreek leaves
£7.50
Methi Prawn
Medium curry cooked with a sprinkle of fenugreek leaves
£6.50
Pathia Chicken
Cooked in a slightly sweet, sour & hot sauce
£6.50
Pathia Chicken Tikka
Cooked in a slightly sweet, sour & hot sauce
£7.50
Pathia Keema (Mince Meat)
Cooked in a slightly sweet, sour & hot sauce
£6.50
Pathia King Prawn
Cooked in a slightly sweet, sour & hot sauce
£12.95
Pathia Lamb
Cooked in a slightly sweet, sour & hot sauce
£6.50
Pathia Lamb Tikka
Cooked in a slightly sweet, sour & hot sauce
£7.50
Pathia Prawn
Cooked in a slightly sweet, sour & hot sauce
£6.50
Rogan Chicken
Cooked in glazed tomato & fresh herbs
£6.50
Rogan Chicken Tikka
Cooked in glazed tomato & fresh herbs
£7.50
Rogan Keema (Mince Meat)
Cooked in glazed tomato & fresh herbs
£6.50
Rogan King Prawn
Cooked in glazed tomato & fresh herbs
£12.95
Rogan Lamb
Cooked in glazed tomato & fresh herbs
£6.50
Rogan Lamb Tikka
Cooked in glazed tomato & fresh herbs
£7.50
Rogan Prawn
Cooked in glazed tomato & fresh herbs
£6.50
Saag Chicken
Cooked with tempered spinach & simmered in fresh spices
£6.50
Saag Chicken Tikka
Cooked with tempered spinach & simmered in fresh spices
£7.50
Saag Keema (Mince Meat)
Cooked with tempered spinach & simmered in fresh spices
£6.50
Saag King Prawn
Cooked with tempered spinach & simmered in fresh spices
£12.95
Saag Lamb
Cooked with tempered spinach & simmered in fresh spices
£6.50
Saag Lamb Tikka
Cooked with tempered spinach & simmered in fresh spices
£7.50
Saag Prawn
Cooked with tempered spinach & simmered in fresh spices
£6.50
Vindaloo Chicken
Cooked in a very hot sauce with potatoes
£6.50
Vindaloo Chicken Tikka
Cooked in a very hot sauce with potatoes
£7.50
Vindaloo Keema (Mince Meat)
Cooked in a very hot sauce with potatoes
£6.50
Vindaloo King Prawn
Cooked in a very hot sauce with potatoes
£12.95
Vindaloo Lamb
Cooked in a very hot sauce with potatoes
£6.50
Vindaloo Lamb Tikka
Cooked in a very hot sauce with potatoes
£7.50
Vindaloo Prawn
Cooked in a very hot sauce with potatoes
£6.50
Contact Us
Find Us
367 Fishponds Road, Bristol, BS56RD
We deliver to
BS1, BS15, BS16, BS5, BS6, BS7