About Us
Inner Fire - Finest Indian Cuisine is a Indian takeaway in Bristol. Why don't you try our Gobi Bhaji or Vegetable Korma?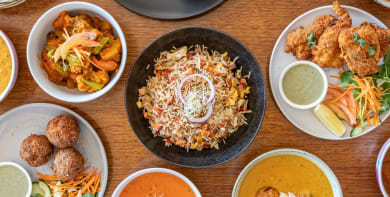 Reviews
490 reviews
Jon
"Delicious as always. Inner Fire is my favourite Indian restaurant. In "normal" times me and the fam go down to the restaurant regularly. And their delivery is every bit as good"
21/11/2020
Tom
"Service is always on time or early, professional and Covid safe. Food is really tasty I particularly recommend the baltis and the naan breads are very generous"
19/11/2020
Lisa
"Great food and will be ordering from here again"
07/11/2020
Kayleigh
"Lovely food very tasty"
06/11/2020
Menu
Aloo Chat
Potatoes cooked in special chaat masala
£3.50
Aloo Chat Puri
Potatoes cooked in a special chaat masala and served with puri
£3.75
Chicken Chat
Chicken cooked in special chaat masala
£3.50
Chicken Chat Puri
Chicken cooked in special chaat masala and served with puri
£3.75
Chicken Pakora
Tikka mixed with batter sauce fried into small fritters
£3.75
Dall Soup
Lentils with a slice of lemon
£2.95
Garlic Chicken Tikka Starter
Chicken marinated in garlic, green peppers, fresh coriander cooked in the clay oven
£3.95
King Prawn Butterfly
King prawn marinated with exotic spices, deep fried in a crunchy coating
£4.95
Malagatani Soup
Curry sauce and lentils with a slice of lemon
£2.95
Mirch Tikka Starter Chicken
Tender, boneless chicken or lamb marinated in yoghurt, garlic, ginger, coriander, green chilli & fresh herbs
£3.95
Mirch Tikka Starter Lamb
Tender, boneless chicken or lamb marinated in yoghurt, garlic, ginger, coriander, green chilli & fresh herbs
£3.95
Mixed Kebab
Chicken tikka, lamb tikka and onion bhaji
£3.95
Naga Tikka Starter Chicken
Tender, boneless chicken or lamb marinated in yoghurt, hot scotch bonnet chilli pickle & fresh herbs
£3.95
Naga Tikka Starter Lamb
Tender, boneless chicken or lamb marinated in yoghurt, hot scotch bonnet chilli pickle & fresh herbs
£3.95
Onion Bhaji
Onion balls fried in butter
£2.95
Mushroom Kebab
Minced meat stuffed mushrooms deep fried in a crunchy coating
£3.95
Papadom
Made from corn flour. Fried, thin and crisp
£0.70
Reshmi Kebab
Minced meat fried in a little ghee served with omelette
£3.95
Prawn Cocktail
Succulent shrimps in salad topped with cocktail sauce
£3.75
Prawn Puri
Succulent shrimps spiced and served with puri
£3.75
Samosa Meat
Spiced pastry triangles stuffed with meat or vegetable
£2.95
Samosa Vegetable
Spiced pastry triangles stuffed with meat or vegetable
£2.95
Shami Kebab
Minced meat fried in a little ghee
£3.75
Sheesh Kebab Starter
Minced meat cooked on skewers in the clay oven
£3.75
Special Kebab
Minced meat cooked on skewers in the clay oven wrapped in chapati
£3.95
Tandoori Chicken Starter
Spring chicken marinated in spicy yoghurt cooked in the clay oven
£3.75
Stuffed Pepper
Capsicum stuffed with mixed vegetables
£3.95
Tikka Starter Chicken
Tender boneless chicken or lamb marinated in yoghurt with herbs & spices, barbecued in the clay oven
£3.75
Tikka Starter Lamb
Tender boneless chicken or lamb marinated in yoghurt with herbs & spices, barbecued in the clay oven
£3.75
Tropical Curry - Chicken Tikka
Chicken tikka, lamb tikka, prawns and mushrooms cooked in a rich masala sauce
£7.95
Shatkora Chicken Tikka
Tikka cooked in Indian bitter vegetables
£7.50
Shatkora Lamb Tikka
Tikka cooked in Indian bitter vegetables
£7.50
Rezellah Chicken Tikka
Tikka cooked with yoghurt and chopped green chillies
£7.50
Rezellah Lamb Tikka
Tikka cooked with yoghurt and chopped green chillies
£7.50
Passanda Chicken Tikka
Tikka cooked in fresh cream and almond powder
£7.50
Passanda Lamb Tikka
Tikka cooked in fresh cream and almond powder
£7.50
Moza Chicken Tikka
Tikka cooked in sweet sauce with chopped onions, tomato, capsicum and fresh selected herbs
£7.50
Moza Lamb Tikka
Tikka cooked in sweet sauce with chopped onions, tomato, capsicum and fresh selected herbs
£7.50
Murghi Massala
On the bone tandoori chicken cooked in a mince meat bhuna sauce
£7.95
Naga Chicken Tikka
Tikka cooked with hot scotch bonnet chilli pickle
£7.50
Naga Lamb Tikka
Tikka cooked with hot scotch bonnet chilli pickle
£7.50
Makhan Chicken Tikka
Tikka cooked in a mild mango buttery dish cooked with coconut
£7.50
Makhan Lamb Tikka
Tikka cooked in a mild mango buttery dish cooked with coconut
£7.50
Maricha Chicken Tikka
Tikka cooked with blended fresh green chilli, garlic, ginger & coriander exotic hot taste
£7.50
Maricha Lamb Tikka
Tikka cooked with blended fresh green chilli, garlic, ginger & coriander exotic hot taste
£7.50
Massala Chicken Tikka
Tikka cooked in a wonderful combination of flavours with cream and masala red sauce
£7.50
Massala Lamb Tikka
Tikka cooked in a wonderful combination of flavours with cream and masala red sauce
£7.50
Innerfire Special Chicken Tikka
Marinated chicken tikka cooked with tamarind sauce, spring onion and garnished with fresh herbs
£8.95
Keema Bhuna
Mince meat cooked with browned onions and fresh herbs
£7.50
Keema Karahi
Mince meat cooked with chopped onions, capsicum, tomato and sliced ginger served in a iron wok
£7.50
Lakno Chicken Tikka
Tikka cooked with mushrooms and fresh cream
£7.50
Lakno Lamb Tikka
Tikka cooked with mushrooms and fresh cream
£7.50
Jalfrezi Chicken Tikka
Tikka cooked with onions and peppers garnished with green chilli
£7.50
Jalfrezi Lamb Tikka
Tikka cooked with onions and peppers garnished with green chilli
£7.50
Karahi Chicken Tikka
Tikka cooked with chopped onions, capsicum, tomato and sliced ginger served in a iron wok
£7.50
Karahi Lamb Tikka
Tikka cooked with chopped onions, capsicum, tomato and sliced ginger served in a iron wok
£7.50
Garlic Chilli Masala Chicken Tikka
Tikka cooked in garlic & fresh green chilli
£7.50
Garlic Chilli Masala Lamb Tikka
Tikka cooked in garlic & fresh green chilli
£7.50
Dil Cush Chicken Tikka
Tikka cooked in sweet sauce with chopped onions, capsicum, tomato and fresh selected herbs
£8.95
Dil Cush Lamb Tikka
Tikka cooked in sweet sauce with chopped onions, capsicum, tomato and fresh selected herbs
£8.95
Garlic Tikka Bhuna Chicken Tikka
Tikka cooked with garlic, browned onions and fresh herbs
£7.50
Garlic Tikka Bhuna Lamb Tikka
Tikka cooked with garlic, browned onions and fresh herbs
£7.50
Gurka Chicken
Chicken stuffed with mince meat and garnished with fresh herbs
£8.95
Chilli Paneer Chicken Tikka
Tikka cooked with homemade Indian cottage cheese, green chillies and fresh selected herbs
£7.50
Chilli Paneer Lamb Tikka
Tikka cooked with homemade Indian cottage cheese, green chillies and fresh selected herbs
£7.50
Achari Chicken Tikka
Tikka cooked in Indian pickle
£7.50
Achari Lamb Tikka
Tikka cooked in Indian pickle
£7.50
Bombay Chicken - Chicken Tikka
Sliced chicken tikka marinated with yoghurt and exotic spices. Cooked with onions, capsicum, tomato, bayleaf and boiled egg
£7.95
Badami Chicken Tikka
Tikka cooked in a creamy sauce with almonds
£7.50
Badami Lamb Tikka
Tikka cooked in a creamy sauce with almonds
£7.50
Butter Chicken Tikka
Tikka cooked in a rich butter and cream
£7.50
Butter Lamb Tikka
Tikka cooked in a rich butter and cream
£7.50
Garlic Chicken Tikka Main
Chicken marinated in garlic, green peppers, fresh coriander cooked in the clay oven
£6.95
Mirch Tikka Main Chicken
Tender, boneless chicken or lamb marinated in yoghurt, hot scotch bonnet chilli pickle & fresh herbs
£6.95
Mirch Tikka Main Lamb
Tender, boneless chicken or lamb marinated in yoghurt, hot scotch bonnet chilli pickle & fresh herbs
£6.95
Naga Tikka Main Chicken
Tender, boneless chicken or lamb marinated in yoghurt, hot scotch bonnet chilli pickle & fresh herbs
£6.95
Naga Tikka Main Lamb
Tender, boneless chicken or lamb marinated in yoghurt, hot scotch bonnet chilli pickle & fresh herbs
£6.95
Paneer Shashlik
Homemade Indian cottage cheese with onion, tomato and capsicum then barbecued in the clay oven
£6.95
Sheesh Kebab Main
Minced meat cooked on skewers in the clay oven
£6.95
Shashlik Chicken
Marinated with onion, tomato and capsicum then barbecued in the clay oven
£7.50
Shashlik Lamb
Marinated with onion, tomato and capsicum then barbecued in the clay oven
£7.50
Shashlik Chilli Masala Chicken
Marinated with onion, tomato and capsicum then barbecued in the clay oven. Served with bhuna sauce
£7.95
Shashlik Chilli Masala Lamb
Marinated with onion, tomato and capsicum then barbecued in the clay oven. Served with bhuna sauce
£7.95
Tandoori Chicken Joori
Barbecued tandoori chicken shredded and fried in onion, fresh herbs and exotic spices
£8.95
Tandoori Chicken Main
Half spring chicken marinated in yoghurt with herbs & spices, barbecued in the clay oven
£6.95
Tikka Main Chicken
Tender boneless chicken or lamb marinated in yoghurt with herbs & spices, barbecued in the clay oven
£6.50
Tikka Main Lamb
Tender boneless chicken or lamb marinated in yoghurt with herbs & spices, barbecued in the clay oven
£6.50
Tandoori Fish Main
House fish marinated in herbs and exotic spices barbecued in the clay oven
£6.95
Tandoori King Prawn
King prawn marinated in herbs and exotic spices barbecued in the clay oven
£12.95
Tandoori Mixed Grill
Chicken tikka, lamb tikka, tandoori chicken and sheesh kebab served with plain naan
£8.95
Innerfire Special Biryani
Chicken and lamb tikka cooked with garlic, naga and fresh herbs
£9.95
Persian Tikka Biryani Chicken
Cooked with sultana. Served with an omelette
£8.95
Persian Tikka Biryani Lamb
Cooked with sultana. Served with an omelette
£8.95
Mixed Biryani
Cooked with chicken tikka, lamb tikka and prawns
£8.50
Vegetable Naga
Cooked with very hot scotch bonnet chilli pickle
£6.50
Vegetable Passanda
Cooked in fresh cream & almond powder
£6.50
Vegetable Pathia
Cooked in a slightly sweet, sour & hot sauce
£5.50
Vegetable Saag Aloo
Spinach & potatoes cooked in browned onions
£5.50
Vegetable Vindaloo
Cooked in a very hot sauce with potatoes
£5.50
Vegetable Balti
Cooked with fresh root spices, garlic, onion & capsicum in a balti paste
£6.50
Vegetable Bhuna
Cooked with browned onions & fresh herbs
£5.50
Vegetable Jalfrezi
Cooked with onions & peppers garnished with green chilli
£6.50
Vegetable Karahi
Cooked with chopped onions, capsicum, tomato & sliced ginger
£6.50
Vegetable Korma
Cooked in ground coconut & cream
£5.50
Vegetable Madras
Cooked in a hot sauce
£5.50
Vegetable Makhan
Cooked in mild mango buttery dish cooked with coconut
£6.50
Vegetable Maricha
Cooked with blended fresh green chilli, garlic, ginger & coriander exotic hot taste
£6.50
Vegetable Massala
Cooked with a wonderful combination of flavours with cream & masala red sauce
£6.50
Vegetable Motor Paneer
Green peas & home-made Indian cottage cheese
£5.50
Innerfire Special Vegetables
Mixed vegetables cooked with tamarind sauce, spring onion & garnished with fresh herbs
£7.50
Dil Cush
Mixed vegetables cooked in sweet sauce with chopped onions, casicum, tomato & fresh selected herbs
£7.50
Butter Vegetable
Cooked in rich butter & cream
£6.50
Balti Chicken Tikka Masala
£7.50
Balti Chilli Chicken Tikka
£7.50
Machlee Bhuna
House fish cooked with browned onion and fresh herbs
£7.95
Machlee Garlic Chilli Massala
House fish cooked with fresh garlic, green chilli, tomato and browned onions
£7.95
Machlee Massala
House fish cooked with a wonderful combination of cream and masala red sauce
£7.95
Fish Shajahan
Marinated house fish cooked with onion, capsicum, tomato, garlic, bayleaf, cinnamon and spicy fresh herbs
£7.95
King Prawn Karahi
Onions, capsicum, tomato and sliced ginger
£13.95
King Prawn Massala
Cooked with a wonderful combination of cream and masala red sauce
£13.95
King Prawn Sizzler
Onions and peppers with special selected herbs
£13.95
Korma Chicken
Cooked in ground coconut & cream
£6.50
Korma Chicken Tikka
Cooked in ground coconut & cream
£7.50
Korma King Prawn
Cooked in ground coconut & cream
£12.95
Korma Lamb
Cooked in ground coconut & cream
£6.50
Korma Lamb Tikka
Cooked in ground coconut & cream
£7.50
Korma Prawn
Cooked in ground coconut & cream
£6.50
Kashmiri Chicken
Cooked in ground coconut, banana & cream
£6.50
Kashmiri Chicken Tikka
Cooked in ground coconut, banana & cream
£7.50
Kashmiri King Prawn
Cooked in ground coconut, banana & cream
£12.95
Kashmiri Lamb
Cooked in ground coconut, banana & cream
£6.50
Kashmiri Lamb Tikka
Cooked in ground coconut, banana & cream
£7.50
Kashmiri Prawn
Cooked in ground coconut, banana & cream
£6.50
Jeera Chicken
Cooked in freshly roasted cumin seeds
£6.50
Jeera Chicken Tikka
Cooked in freshly roasted cumin seeds
£7.50
Jeera Keema (Mince Meat)
Cooked in freshly roasted cumin seeds
£6.50
Jeera King Prawn
Cooked in freshly roasted cumin seeds
£12.95
Jeera Lamb
Cooked in freshly roasted cumin seeds
£6.50
Jeera Lamb Tikka
Cooked in freshly roasted cumin seeds
£7.50
Jeera Prawn
Cooked in freshly roasted cumin seeds
£6.50
Honey Chicken Tikka
Cooked with honey in a bhuna sauce
£7.50
Honey King Prawn
Cooked with honey in a bhuna sauce
£12.95
Honey Lamb Tikka
Cooked with honey in a bhuna sauce
£7.50
Honey Prawn
Cooked with honey in a bhuna sauce
£6.50
Dopiaza Chicken
Cooked with chopped onions & fresh herbs
£6.50
Dopiaza Chicken Tikka
Cooked with chopped onions & fresh herbs
£7.50
Dopiaza Keema (Mince Meat)
Cooked with chopped onions & fresh herbs
£6.50
Dopiaza King Prawn
Cooked with chopped onions & fresh herbs
£12.95
Dopiaza Lamb
Cooked with chopped onions & fresh herbs
£6.50
Dopiaza Lamb Tikka
Cooked with chopped onions & fresh herbs
£7.50
Dopiaza Prawn
Cooked with chopped onions & fresh herbs
£6.50
Dansak Chicken
Cooked with lentils in a sweet, sour & hot sauce
£6.50
Dansak Chicken Tikka
Cooked with lentils in a sweet, sour & hot sauce
£7.50
Dansak Keema (Mince Meat)
Cooked with lentils in a sweet, sour & hot sauce
£6.50
Dansak King Prawn
Cooked with lentils in a sweet, sour & hot sauce
£12.95
Dansak Lamb
Cooked with lentils in a sweet, sour & hot sauce
£6.50
Dansak Lamb Tikka
Cooked with lentils in a sweet, sour & hot sauce
£7.50
Dansak Prawn
Cooked with lentils in a sweet, sour & hot sauce
£6.50
Curry Chicken
Medium spiced curry
£6.50
Curry Chicken Tikka
Medium spiced curry
£7.50
Curry Keema (Mince Meat)
Medium spiced curry
£6.50
Curry King Prawn
Medium spiced curry
£12.95
Curry Lamb
Medium spiced curry
£6.50
Curry Lamb Tikka
Medium spiced curry
£7.50
Curry Prawn
Medium spiced curry
£6.50
Bhuna Chicken
Cooked with browned onions & fresh herbs
£6.50
Bhuna Chicken Tikka
Cooked with browned onions & fresh herbs
£7.50
Bhuna Keema (Mince Meat)
Cooked with browned onions & fresh herbs
£6.50
Bhuna King Prawn
Cooked with browned onions & fresh herbs
£12.95
Bhuna Lamb
Cooked with browned onions & fresh herbs
£6.50
Bhuna Lamb Tikka
Cooked with browned onions & fresh herbs
£7.50
Bhuna Prawn
Cooked with browned onions & fresh herbs
£6.50
Ceylon Chicken
Fairly hot curry cooked with coconut
£6.50
Ceylon Chicken Tikka
Fairly hot curry cooked with coconut
£7.50
Ceylon Keema (Mince Meat)
Fairly hot curry cooked with coconut
£6.50
Ceylon King Prawn
Fairly hot curry cooked with coconut
£12.95
Ceylon Lamb
Fairly hot curry cooked with coconut
£6.50
Ceylon Lamb Tikka
Fairly hot curry cooked with coconut
£7.50
Ceylon Prawn
Fairly hot curry cooked with coconut
£6.50
Madras Chicken
Cooked in a hot sauce
£6.50
Madras Chicken Tikka
Cooked in a hot sauce
£7.50
Madras Keema (Mince Meat)
Cooked in a hot sauce
£6.50
Madras King Prawn
Cooked in a hot sauce
£12.95
Madras Lamb
Cooked in a hot sauce
£6.50
Madras Lamb Tikka
Cooked in a hot sauce
£7.50
Madras Prawn
Cooked in a hot sauce
£6.50
Malaya Chicken
Cooked in ground coconut, pineapple & cream
£6.50
Malaya Chicken Tikka
Cooked in ground coconut, pineapple & cream
£7.50
Malaya King Prawn
Cooked in ground coconut, pineapple & cream
£12.95
Malaya Lamb
Cooked in ground coconut, pineapple & cream
£6.50
Malaya Lamb Tikka
Cooked in ground coconut, pineapple & cream
£7.50
Malaya Prawn
Cooked in ground coconut, pineapple & cream
£6.50
Methi Chicken
Medium curry cooked with a sprinkle of fenugreek leaves
£6.50
Methi Chicken Tikka
Medium curry cooked with a sprinkle of fenugreek leaves
£7.50
Methi Keema (Mince Meat)
Medium curry cooked with a sprinkle of fenugreek leaves
£6.50
Methi King Prawn
Medium curry cooked with a sprinkle of fenugreek leaves
£12.95
Methi Lamb
Medium curry cooked with a sprinkle of fenugreek leaves
£6.50
Methi Lamb Tikka
Medium curry cooked with a sprinkle of fenugreek leaves
£7.50
Methi Prawn
Medium curry cooked with a sprinkle of fenugreek leaves
£6.50
Pathia Chicken
Cooked in a slightly sweet, sour & hot sauce
£6.50
Pathia Chicken Tikka
Cooked in a slightly sweet, sour & hot sauce
£7.50
Pathia Keema (Mince Meat)
Cooked in a slightly sweet, sour & hot sauce
£6.50
Pathia King Prawn
Cooked in a slightly sweet, sour & hot sauce
£12.95
Pathia Lamb
Cooked in a slightly sweet, sour & hot sauce
£6.50
Pathia Lamb Tikka
Cooked in a slightly sweet, sour & hot sauce
£7.50
Pathia Prawn
Cooked in a slightly sweet, sour & hot sauce
£6.50
Rogan Chicken
Cooked in glazed tomato & fresh herbs
£6.50
Rogan Chicken Tikka
Cooked in glazed tomato & fresh herbs
£7.50
Rogan Keema (Mince Meat)
Cooked in glazed tomato & fresh herbs
£6.50
Rogan King Prawn
Cooked in glazed tomato & fresh herbs
£12.95
Rogan Lamb
Cooked in glazed tomato & fresh herbs
£6.50
Rogan Lamb Tikka
Cooked in glazed tomato & fresh herbs
£7.50
Rogan Prawn
Cooked in glazed tomato & fresh herbs
£6.50
Saag Chicken
Cooked with tempered spinach & simmered in fresh spices
£6.50
Saag Chicken Tikka
Cooked with tempered spinach & simmered in fresh spices
£7.50
Saag Keema (Mince Meat)
Cooked with tempered spinach & simmered in fresh spices
£6.50
Saag King Prawn
Cooked with tempered spinach & simmered in fresh spices
£12.95
Saag Lamb
Cooked with tempered spinach & simmered in fresh spices
£6.50
Saag Lamb Tikka
Cooked with tempered spinach & simmered in fresh spices
£7.50
Saag Prawn
Cooked with tempered spinach & simmered in fresh spices
£6.50
Vindaloo Chicken
Cooked in a very hot sauce with potatoes
£6.50
Vindaloo Chicken Tikka
Cooked in a very hot sauce with potatoes
£7.50
Vindaloo Keema (Mince Meat)
Cooked in a very hot sauce with potatoes
£6.50
Vindaloo King Prawn
Cooked in a very hot sauce with potatoes
£12.95
Vindaloo Lamb
Cooked in a very hot sauce with potatoes
£6.50
Vindaloo Lamb Tikka
Cooked in a very hot sauce with potatoes
£7.50
Vindaloo Prawn
Cooked in a very hot sauce with potatoes
£6.50
Contact Us
Find Us
367 Fishponds Road, Bristol, BS56RD
We deliver to
BS1, BS15, BS16, BS5, BS6, BS7